Discover
Top 10 Open Access Library Databases: Best for Academic Research

Feb 21, 2023 |

10 Mins Read
Open access gives the public unrestricted online access to academic content found in scholarly publications. Over a third of all research articles are now published in Open Access (STM Association 2021). The increased adoption of Open Access in research fields comes as no surprise. Open Access creates value by streamlining the process of publishing for authors and enhancing readership by making more quality academic content available for free.
Open access publishing drives a wider conversation with scholars, policy makers, practitioners, clinicians, and the public to be able to read and circulate research. This dissemination of research can potentially improve current methods of practices and policies across a variety of fields and disciplines.
The surge in Open Access publishing and usage has created a movement with ardent support from social impact groups who are campaigning for open access to help bridge the gap of inequality that exists in academic publishing. Open access allows for greater inclusivity in scholarly communities. Open Access research means more people can make evidence-based decisions and continue learning with our barriers throughout their life. Learning should not stop when you finish school or complete your degree.
Benefits of Open Access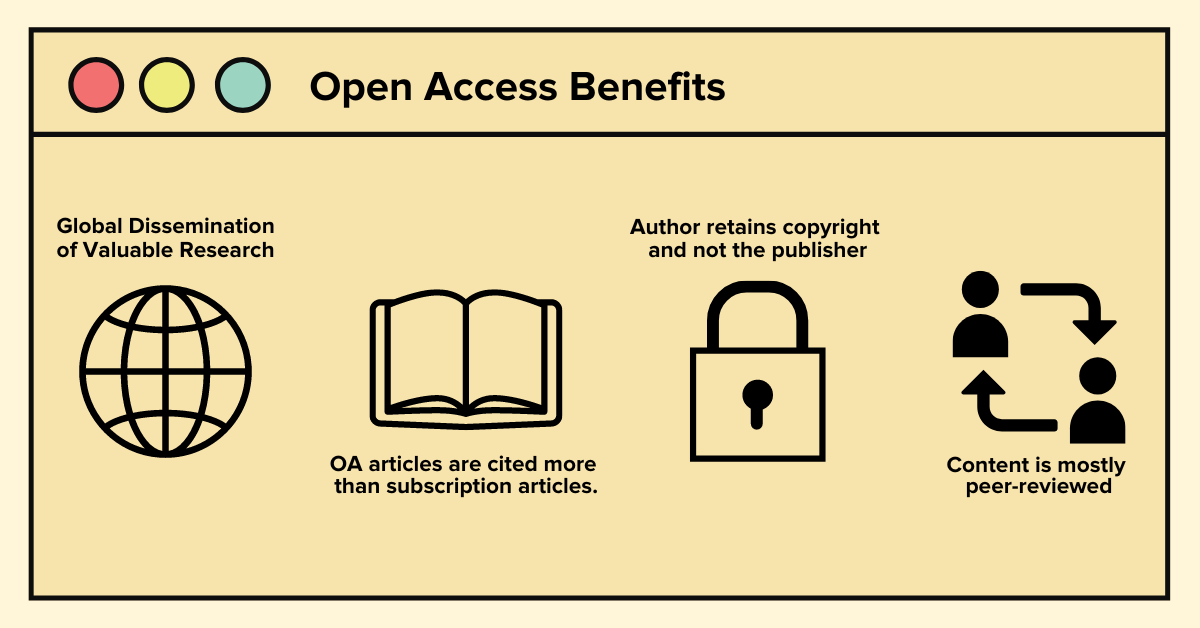 Increased readership: The ease of Open Access publishing means more people around the world can read the latest research for free. This helps build knowledge communities globally and supports lifelong learning.
Opportunity for citations: citations act as a roadmap in research. The more citations an article gets, the greater the chance for future research. Since Open Access is free and available globally, more people can cite the research
Transparency: Integrity is strengthened by the free availability of research. Especially if access is openly granted to this data. Thereby making said research more transparent.
If you're a student, researcher, or professional, you can join the Open Access movement and access millions of journals, proceedings, articles, and more for free now. Here are 10 of the most popular Open Access library databases:
Zendy is an online library that provides open access research worldwide. With over 43 million articles, journals, and e-books, Zendy is a publishing platform that offers a diverse selection of research across all major disciplines. From science to mathematics, technology, humanities, biology, physics, and more. What makes Zendy unique is that we help you make research easy. You can save lists based on your projects, favorite articles you want to read later, and even access your full reading history.
Research4Life equips institutions in low and middle-income countries with online access to academic peer-reviewed resources. This open access library specialises in teaching, research, and policymaking in health, agriculture, environment, and physical and social sciences.
DOAJ – Directory of Open Access Journals
DOAJ was launched in 2003 and started with 300 open access journals and has now grown to 18,000 journals. This publisher offers community-curated lists of open access material and holds together a variety of reputable researchers and content.
Google Scholar is a freely accessible search engine that locates full text or metadata of scholarly literature in an array of fields and formats. Google Scholar offers peer-reviewed online academic journals and e-books, conference papers, dissertations, abstracts, technical reports, and other scholarly literature.
OAPEN is a non-profit organization that is based in the Netherlands. This open access library is a great source for open access academic research. Creating a platform for a diverse set of fields and disseminating the research within those fields, OAPEN is a very reliable publisher of peer-reviewed books.
ScienceOpen functions as a research and publishing network. Offering over 74 million articles in all areas of science, all you need to do to access full-text articles is register for free.
Established in 2008, ResearchGate is a valuable platform that allows researchers to connect, collaborate and share their research with everyone. Most researchers on the platform specialize in medicine or biology however academic content on engineering, computer science, agriculture sciences, and psychology is also abundant.
OpenDOAR was launched in 2005; the platform is a collaboration between Lund University and the University of Nottingham. OpenDOAR serves as a global directory of open access repositories.

Social Science Research Network
The social science research network houses academic sources across all scientific disciplines. Dedicated to worldwide open access dissemination of research, SSRN is a great open access platform that works across a plethora of networks and disciplines.
arXiv is an open access archive for over 2 million scholarly articles in the fields of physics, mathematics, computer science, quantitative biology, electrical engineering, and economics. Publishing across these various disciplines, the network has well-rounded academic content that is posted after a series of moderation but is not peer-reviewed.
It's a transformative time for Open Access. Together with leading global publishers, Zendy is committed to empowering discussions about how Open Access content can contribute to a more equitable future.
Discover millions of journals, proceedings, e-books, and more now on Zendy
You might also like