News
Zendy Partners With IntechOpen to Boost Accessibility of Open Access Content for Developing Countries

May 17, 2023 |

3 Mins Read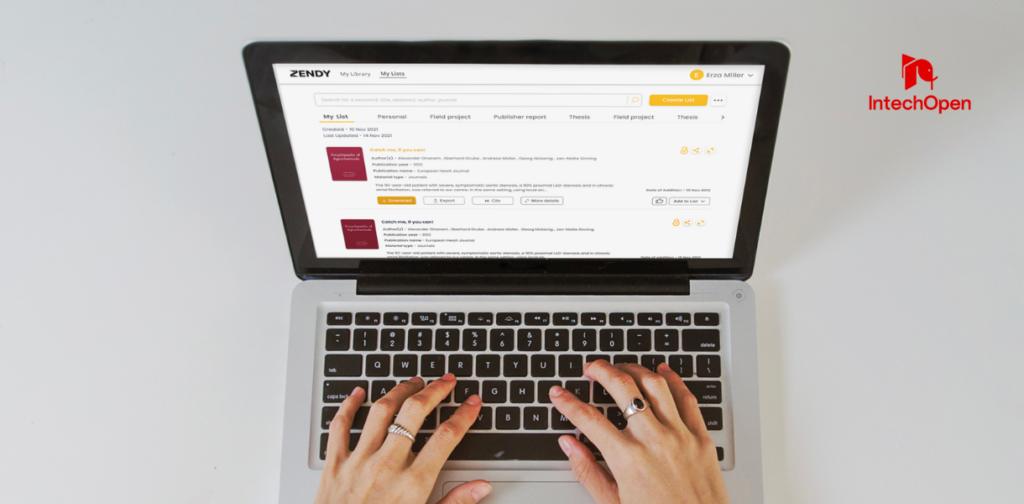 Zendy is pleased to announce that it has signed an agreement with IntechOpen, a leading global publisher of Journals and Books within the fields of Science, Technology and Medicine. Zendy will host IntechOpen's Book Series and open science journals, offering all the benefits of open access to authors, users, and readers.
Zendy a product of Knowledge E, provides seamless access to millions of articles, journals, e-books, and more. Comprehensive filters enable users to search effectively for content, making it easier for them to identify, read, cite, and save the content that they need.
As members of the SDG Publishers Compact, both Knowledge E and IntechOpen share the same commitment to increase awareness, publish and disseminate scientific research that supports the UN Sustainable Development Goals. This is why we are thrilled that the Sustainable Development series will be featured on the Zendy platform, as this is how we can all work together to contribute and achieve the SDGs.
Zendy Co-founder Kamran Kardan said, "IntechOpen has been a driving force in the open access movement, and we are proud to partner with them to further our shared mission of democratising access to knowledge. With IntechOpen's extensive portfolio of scholarly work and Zendy's cutting-edge technology, we can make a significant impact on improving the accessibility of scientific research in developing regions, ultimately contributing to the UN's Sustainable Development Goals."
Viktorija Žgela, Head of Editorial Development at IntechOpen, commented: "The journey towards more inclusive, equitable, and sustainable future starts with collaborative efforts. The scholarly communication landscape with all its stakeholders, including researchers, publishers, online libraries, and service providers that facilitate and enrich the publishing experience and the communication of the scientific output, is part of this journey. Therefore, it is a pleasure to partner with Zendy because we share the same vision, mission, and values: to make academic content accessible to everyone in the world."
Learn more about Zendy: https://zendy.io
Learn more about IntechOpen: https://www.intechopen.com/
You might also like