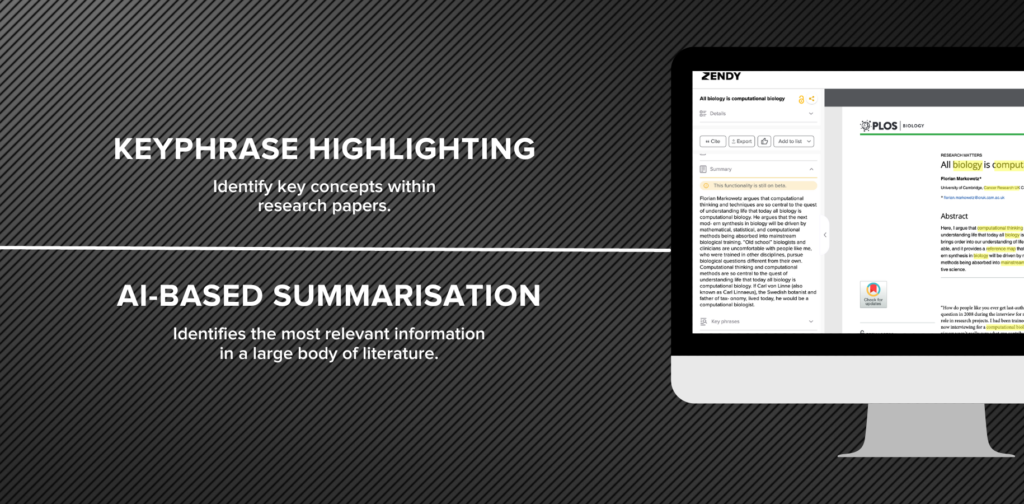 Zendy announced today the launch of its new AI-powered features that help researchers streamline the literature discovery process. Unlike traditional tools that rely on simple statistical methods, Zendy's AI-based summarisation and keyphrase highlighting tool comprehends the underlying meaning of research papers, resulting in more accurate information for the researcher.
With these new features, Zendy will continuously enhance its AI-based tool with new papers available in its platform. The new papers will be used to fine-tune the models to generate even more insightful information, providing researchers with the most up-to-date and relevant insights.
With the depth of content available to researchers, reviewing literature is one of the most time consuming, yet critical, aspects of the research process. AI-based summarisation can significantly optimise literature review by automating the process of identifying the most relevant information in a large body of literature.
Keyphrase highlighting within academic texts spotlights critical concepts in the text, making it easier for researchers to quickly and efficiently identify the most important information related to their research question.
We're pleased to offer researchers a more intelligent way to utilise and continue their discovery through research papers," said Zendy Co-founder Kamran Kardan. "It's critical that the industry leverage the best technologies to deliver value to the research discovery process and enable a more effective and equitable experience for students, researchers, and professionals. The correct use and implementation of AI and machine learning has the power to make a true difference in creating a more knowledgeable world."
In addition, Zendy's is building topic classification models that will deliver AI-based personalised search results to enable researchers to discover papers based on their interests and preferences.
Zendy's latest AI-based summarisation and keyphrase highlighting features are now available in beta-mode to users, and the platform will continue to evolve with new papers and enhanced AI capabilities, providing researchers with the industry's most advanced research tools available.