News
Zendy signs partnership with EBSCO: Zendy is now ready to launch in 17 countries

Sep 5, 2019 |

7 Mins Read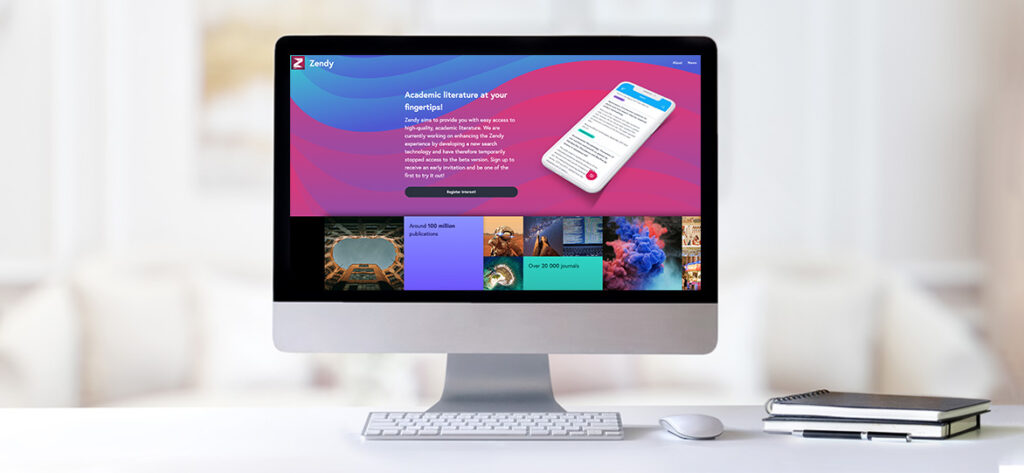 DUBAI, United Arab Emirates, 5th September 2019 – Knowledge E, the developers of Zendy, partnered with EBSCO to provide content to individuals in 17 countries. With the hope of bringing all academic literature to one accessible space, Zendy aims to become the information watering hall for all academic and non-academic professionals, students and laymen across the world. Zendy's mission is to build a movement towards a more knowledgeable world by making scholarly information readily accessible and affordable to everyone. This means anyone with a problem can turn to their laptop, log into Zendy, and find scientific research to back their decision making and support their research.
"Zendy aims to democratise access to scientific content traditionally trapped behind paywalls and less accessible. With the rise of simple yet illegal ways of access to scientific content, there has never been a time where simple, affordable, and legal ways access to content, has been more needed. This is a chance for all publishers and content providers to join this journey and to increase their reach to more and more individuals beyond those only coming from elite institutions in some countries. We are happy that EBSCO shares our vision and look forward to working closely with them on this ambitious yet achievable goal." – Founder and CEO of Knowledge E, Kamran R. Kardan.
The Regional Vice President of EBSCO Information Services, Ali Abdullah, added:
"EBSCO's aim is to deliver information to all. Having the ability to reach and access information is one of the rights of every human being. EBSCO uses all possible technologies and platforms to deliver its shared knowledge and accomplish the goal of making information accessible to all. The collaboration with Knowledge E on Zendy is an important step in that direction.
Zendy is like the digital store where researches and readers can have access to their dreamland of resources, it will allow them to have a direct channel to the latest academic information without any intermediaries.
Zendy aims to fill the gap between researchers and their entities concerning lack of access, missing data and the absence of resources from time to time. Having access to Zendy is a personal investment which researchers and professionals should not omit. Access to relevant knowledge gives researchers the ability to grow, get promoted, have a better reputation and a higher credibility and thus aim for greater life achievements."
Amidst the freedom to explore all relevant scholarly content through one powerful literature platform, Zendy's team additionally aspires to strengthen the research community by building new collaborations and partnerships amongst the global academic family to enrich the content available through Zendy and enhance the end-user experience.
Visit Zendy Collaboration for Publishers to register interest and take a step towards building a more knowledgeable world.
About Zendy
Zendy has been created with the aim to radically facilitate access to academic literature. By addressing the key challenges that we face with traditional ways for finding relevant, high-quality, academic content, Zendy serves to provide peace of mind, a zen day, for all researchers and students.
Zendy is developed by Knowledge E in a growing collaboration with researchers, students, institutions and publishers. Zendy invites, in particular, all publishers to join the collaboration to support the vision for Zendy. This will be important to academics globally, and as said, particularly in developing countries. Zendy will in this way facilitate the democratization of access to knowledge, which is key to learning and a better quality of life.
About Knowledge E
Established in 2012, Knowledge E's name was fast to become synonymous with collaboration, professionalism and innovation. Head-quartered in Dubai, United Arab Emirates, and supported by a team of 30 highly engaged professionals, Knowledge E works closely with over 100 clients world-wide from various types of organisations and government entities within the research and education sector to support their continued innovation and development. This is achieved by providing leading expertise, information resources and software solutions.
Since its inception, Knowledge E has prudently expanded its expertise, services and technology in line with its vision of developing 'a more knowledgeable world'. Knowledge E's three core offerings are the 3D's; 'Discover', 'Develop' and 'Disseminate'. 'Discover' through the KnE Digital Library Solutions powered by Zendy for research literature discovery, as well as tailored content packages; 'Develop' through the KnE Learning Programmes, supporting capacity building and skills development within academia as well as the KnE Consulting Projects, serving universities on their mission to become 'world-class universities'; and 'Disseminate' through the KnE Publishing Services and the platform for Open Access publishing of regional journals and conference proceedings.
About EBSCO
EBSCO is the leading provider of research databases, e-journals, magazine subscriptions, e-books and discovery service to libraries of all kinds. For over 70 years, we've partnered with libraries to improve research with quality content and technology.
EBSCO Information Services is a division of EBSCO Industries, Inc., one of the largest privately held and family-owned companies in the United States. EBSCO Industries, Inc. has been in business since 1944. Starting out as a small subscription agency, EBSCO quickly became a pioneer in the library services industry. Through vision, action and innovation, EBSCO invests in the library business to ensure the long-term growth of products, services and technologies for our customers.
You might also like