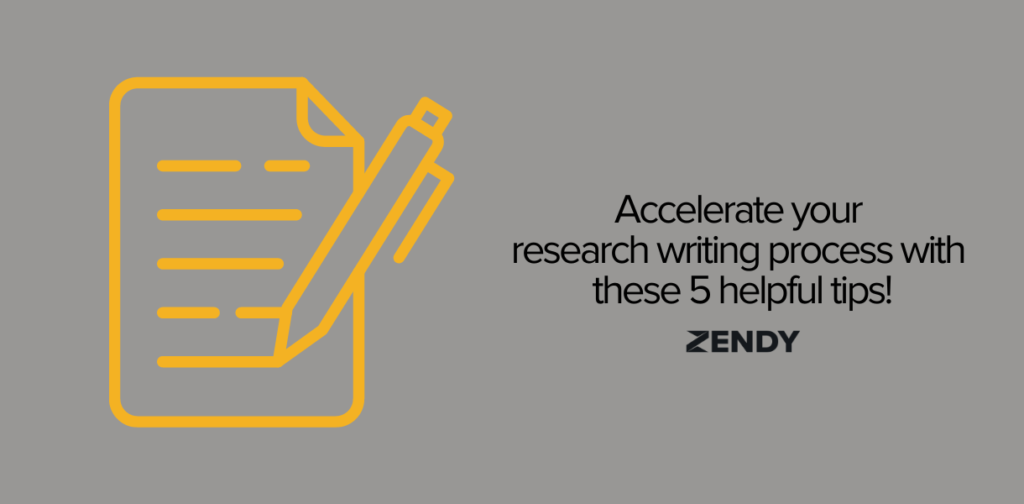 It can be argued that writing research papers is a medium of its own, with the delicate academic language and fact-based citations and hypotheses; it's a skill that is acquired. Academic writing is artistry that most researchers and students have to know how to execute. Research papers are written in a scholarly tone to convey studies and findings in a uniform manner and to eliminate language bias to communicate objectively.
However, writing research papers can be considered a daunting task to some. It requires a significant amount of research, analysis, and organization, which can be time-consuming. However, with the right approach and techniques, it is possible to write a research paper faster without compromising the quality of your work. In this blog, we discuss practical tips and strategies that can help you write research papers faster, from the initial research stage to the final editing and proofreading phase. Whether you are a student, academic researcher, or a professional, these tips will help you to save time and increase your productivity when writing research papers.
Brainstorm your academic research topic and create a mindmap. Position the title as a question and as a statement to compare how the approach to the topic changes with just the title. Make a list of aspects you can explore within your research topic and use this as a guide for potential subheadings within your research paper.
Once you have a title finalised, it's time to research! Find your primary sources and begin reading the relevant research that covers your academic research, figure out how your research can stand out from what is already published and studied. Ensure that there is an adequate amount of material to highlight and discuss within your paper from reliable sources. Furthermore, try to use material from academic library databases as your sources as these are easier to cite and academic databases provide a variety of research and studies across different aspects of a subject.
Creating an outline for an academic research paper is an essential step in the writing process. An outline serves as a roadmap that guides you through the paper, ensuring that all the necessary elements are included and presented in a logical manner. The first step in creating an outline is to identify the main topic. Then, break down the topic into smaller subtopics and organise them in a coherent flow. Each subtopic should be supported by evidence and examples. The outline should also include an introduction, body paragraphs, and a conclusion, along with any necessary headings and subheadings.
Structure Your Thesis Statement
Your thesis statement drives the purpose of your paper, essentially it clearly communicates the areas your research paper will explore along with the question or issue you are proposing to solve. There is a simple formula to creating your thesis statement; limited subject, precise opinion and blueprint of reasons.
It may be structured like this:
(Limited subject) This study aims to thoroughly understand the accurate state of refugees globally. (Precise Opinion) The essay will effectively highlight the stereotype perpetuated by mass media in portraying refugees who have been displaced due to national conflicts. (Reasoning Blueprint) To present and challenge this notion, this study will assess and dissect the language utilised in newspaper articles from The Guardian, CNN and Fox News reporting on refugee stories. These newspapers have been selected with consideration to their audiences and general stance in the political sphere.
Upon finalising your introduction and thesis statement, you'll begin working on the body paragraphs that present evidence and effectively support your statement. There's also a simple formula for these paragraphs: Point, Evidence and Explanation which is the PEE method. Having a structure to execute the lengthy part of a research paper will speed up your writing process as an effective flow has already been established.
Your paragraph may be structured like this:
(Point) The difficulties that refugees face are overlooked when the mass media creates a bias within the general public's perception of refugees. (Evidence) Smith (2012) argues that there are negative and positive terminologies that can create a bias within the news headline itself and that this tactic is proven best in the case of reporting refugee-related news articles. (Explanation) A common negative term used when reporting on refugees is 'homeless.' An effective method to eliminate bias and portray the situation accurately is to use 'displaced' instead.
While there are multiple techniques to write at a faster pace, the most effective is to have an organised structure that flows productively. Following structures for statements and paragraphs saves essential time by just rephrasing and restructuring your research to follow the format.
Zendy can be a great addition to your academic research, access millions of articles on a seamless platform that generates citations and lets you organise your very own academic reading list.