Discuss
Impacting Academia: How Do The Sustainable Development Goals Help Reduce Inequalities in Research?

Apr 27, 2023 |

15 Mins Read
To combat global challenges like climate change, poverty, inequality, and environmental degradation, the United Nations Sustainable Development Goals (SDGs) organised a framework in 2015 to effectively rectify these issues. In this blog, we highlight how research and academia play a vital role in advancing the SDGs through the Publishers Compact, from generating evidence-based solutions to shaping policies that drive sustainable development. We also explore the ways in which the SDGs are helping to reduce inequalities in research communities.
What are the sustainable development goals?
The Sustainable Development Goals (SDGs) are a total of 17 goals adopted by the United Nations in 2015 as a global call to action to prioritise and overcome the world's most imperative social, economic, and environmental issues. They provide a clear roadmap for countries, organisations, and individuals to transform our world into an equitable, inclusive, and sustainable place for present and future generations.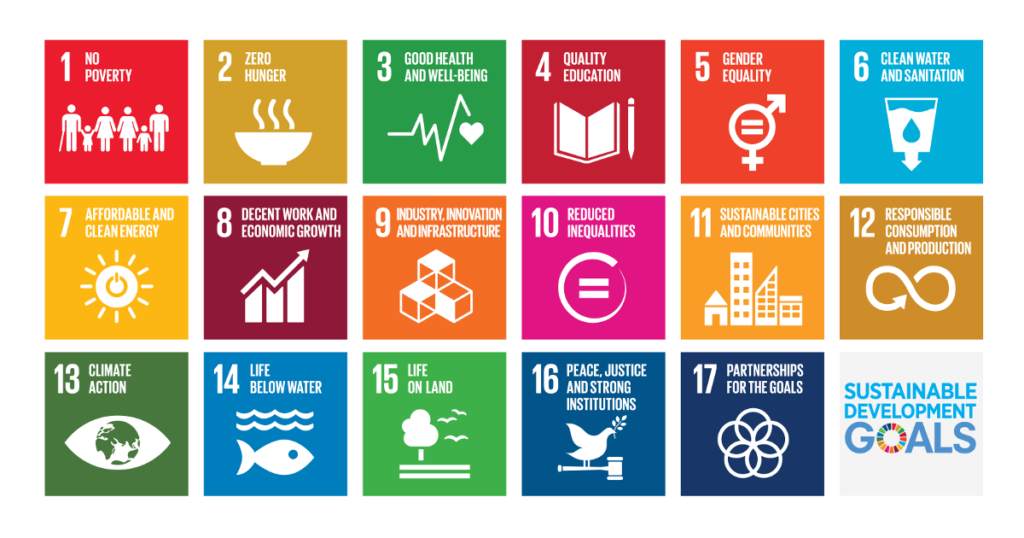 Caption: image credits: sdg-tracker.org
Which SDGs directly impact research communities?
This sustainable development goal is focused on promoting equal access to quality education for all. Mainly targeting STEM fields, SDG 4 aims to increase the skill and knowledge of the global workforce to encourage and increase contributions to research and innovation. By 2030, SDG 4 will ensure that gender disparities in educational sectors are eliminated, increase the supply of qualified teachers in developing countries and build educational facilities that are child and disability friendly.
SDG 5 strongly focuses on eliminating discrimination against women and girls to promote their equal participation in all aspects of life. By addressing gender inequality in research communities, such as the underrepresentation of women in STEM disciplines, the sustainable development goals can create a more diverse and inclusive scientific community.
SDG 10 aims to reduce social, economic and political inequalities in all aspects of life, including research communities. By promoting equal access to research opportunities, resources, and funding, SDG 10 aims to level the playing field and reduce disparities in the scientific community.
SDG 17 places an emphasis on the importance of collaboration to achieve all social development goals. By encouraging and promoting collaboration between researchers, academic institutions, governments and other relevant bodies; the SDGs can create a more integrated research community.
To further encourage participation in the succession of the SDGs, the general public needs to be aware of the progress made and the research conducted to progress each SDG. To understand the growth since the launch of the SDGs in 2015, the United Nations has created an accurate SDG tracker.
What is the SDGs Publishers Compact?
Launched in 2020, the Publishers Compact consists of fellows segregated into 4 groups to tackle 4 key initiatives to amplify SDG content in the publishing sector which will disseminate worldwide and encourage the application and general practice of the SDGs within other industries.
Firstly, the Compact ensures the integration of SDG educational materials. Academic societies have been developing methods for publishers to recognise and rectify the lack of SDG-related content and activities in their education systems and materials. An increase in SDG-related content within schools and universities will likely result in a higher participation and contribution from students, professors, researchers and life long learners in the succession of the 17 goals.
Moreover, the compact promotes applying and practicing the SDGs. This is to encourage authors, editors, and publishers to create summarised content and formats that are useful and appealing to various industries and sectors (such as businesses, services etc). There is also a list of "Top Actions" tips to encourage the integration of SDGs into daily practice and to catalyse research based on the challenges and opportunities practitioners face.
Furthermore, the Publishers Compact is dedicated to redefining the impact indicators of research, like academic rankings and incentives. This is a work in progress, as a list of "Top Actions" tips for publishers, editors, authors, librarians and graduate students is being developed and completed. The committee is preparing a resource to highlight SDG research papers and their impact on policy, education, society and more.
Finally, the Publishers Compact is committed to shifting culture in higher education. This initiative is dedicated to taking steps to affect culture change throughout the academic and publishing ecosystem. This requires evaluating the various stakeholders and their needs, to move the focus toward the SDGs. While the initial focus will be on connecting with and elevating those already working with SDGs, eventually this will transition to highlighting additional associations (e.g. journal editors), companies (e.g. publishers) and institutions (e.g. educators and researchers) and the spaces where the SDGs can be incorporated.
Zendy, which is a product of Knowledge E, is a signatory of the United Nations Publishers Compact. In our efforts to democratise knowledge, we are committed to the causes and principles that the SDGs are striving to achieve by 2030. By increasing the dissemination of research globally, we aim to contribute in creating a sustainable world driven by knowledge and research.
How is open science contributing to the implementation of SDGs?
Open science encourages transparency, collaboration and inclusivity in scientific research by publishing research without restrictions; making it as accessible as possible. This has the potential to significantly contribute to the implementation and succession of the Sustainable Development Goals (SDGs). Open science facilitates the dissemination and usage of research to promote evidence-based solutions, which will accelerate the progress towards the SDGs in the following ways.
Promotes collaborative research and innovation - This enables scientists, policymakers, practitioners, and other relevant bodies to work together across disciplines and regions. This collaborative approach will contribute to interdisciplinary research, the integration of local and indigenous knowledge, and allow diverse perspectives and expertise to be included in the development of sustainable solutions.
Enhances the accessibility and usability of research outputs - This makes scientific knowledge widely accessible and usable. Open access publishing of research articles, data, books and other research outputs can enable researchers, policymakers, and practitioners from developing regions to access the latest scientific findings and potentially apply them.
Supports evidence-based policymaking and decision-making processes - By openly sharing research findings, data, and methodologies, policymakers can access a database of research-based evidence to further advance policy development and implementation. Open science also promotes transparency in the evaluation of policies, allowing for accountability and learning from successes and failures.
Facilitates advancements that contribute to the SDGs - Openly sharing research data, methodologies, and software can allow collaboration among researchers and enable the development of new technologies and solutions that address complex challenges.
Promotes inclusivity and diversity in the scientific community - By promoting open and transparent research practices, open science can create opportunities for underrepresented groups, including women and people from low-income countries, to participate in the scientific process and contribute their unique perspectives and knowledge to address the SDGs.
At Zendy, we believe research papers and educational materials should be affordable and accessible to anyone anywhere. Zendy Open was launched in an effort to disseminate research papers without paywalls or restrictions. We stand to democratise knowledge so that policymakers, governments, researchers, students and relevant authoritative bodies can make informed research-based decisions that impact society. By creating an open access and open science platform, we look to eliminate discrimination and empower the world through knowledge to create a healthy and equally participative educational environment worldwide.
What impact will the implementation of SGDs have on the research community?
The implementation of the Sustainable Development Goals (SDGs) is expected to have a significant impact on the research community in several ways:
Research Priorities: Global research priorities will be aligned with the SDGs, leading to an increased emphasis on research that contributes to the achievement of the goals. This could result in greater funding and resources being allocated to research areas that are aligned with the SDGs.
Interdisciplinary Research: The SDGs encourage integrated approaches to sustainable development. This will promote interdisciplinary research, where researchers from different disciplines collaborate to address complex and interconnected challenges.
Collaboration and Partnerships: The SDGs emphasise the need for partnerships, wherein governments, academia, civil society, private sector, and local communities come together, to collectively work towards achieving the goals. This will result in increased collaboration and partnerships within the research community as well.
Open Science and Data Sharing: The SDGs highlight the importance of data and evidence-based decision-making for monitoring progress towards the goals. This may lead to increased demand for open science practices, such as open access publishing, data sharing, and transparent research methodologies. The research community may witness a greater emphasis on open science, data sharing, and transparent research practices to facilitate knowledge exchange, collaboration, and enable evidence-based policymaking.
Global and Regional Collaboration: The SDGs are a global agenda, but their implementation requires localised actions and context-specific solutions. The research community may witness increased global and regional collaboration to address local challenges in alignment with the SDGs. This could involve cross-border research collaborations, knowledge-sharing platforms, and policy exchanges to learn from different contexts and promote solutions that are relevant to specific regions.
In summary, the implementation of the SDGs is expected to have a significant impact on the research community. This will result in an increase in publications being disseminated in open access databases to eliminate discrimination in educational sectors and other aspects of society while also promoting interdisciplinary research to find sustainable solutions to the pressing matters the SDGs aim to rectify; furthermore, the Publishers Compact will play a significant role in ensuring that educational sector abides by their commitment to equal access which will accelerate the progress towards the 17 sustainable development goals. The research community is likely to play a critical role in generating knowledge and evidence-based solutions that contribute to the achievement of the SDGs and drive sustainable development worldwide.
Zendy, which is a product of Knowledge E, is a proud signatory of the United Nations Publishers Compact. Discover millions of journal articles, e-books, proceedings and so much more now on Zendy.
You might also like